Pay by simply logging into a registered account
created via our website or the app downloaded to a smart phone.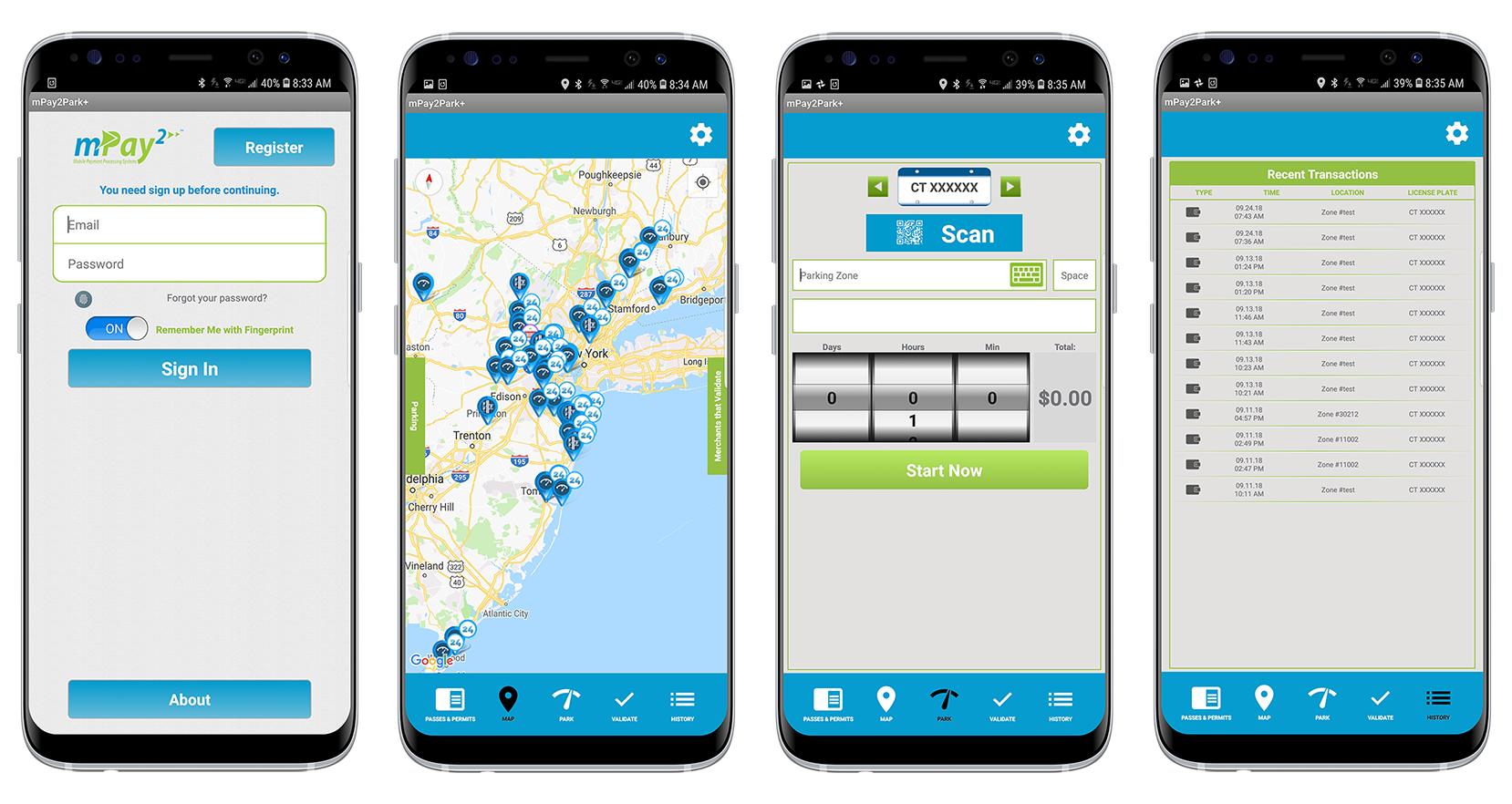 How it Works
In order to establish the account the user must initiate a credit/debit card transaction to fund their wallet. The system utilizes an electronic "e-wallet" which the funds are deducted with each respective transaction that the user selects. The funds are automatically replenished as the account is depleted.
mPay2Park is a fully integrated parking management system that allows both parking users and operators efficient, secure and easy methods of managing parking payment transactions. Using a real-time database, transactions are handled online or through our mobile app.
The initial registration takes only minutes and once established a parking transactions take even less time. You no longer have to leave your car to pay an attendant or worry about change to fill a meter. With a push of the button on your mobile phone, parking time may also be extended from any location.
Using the system's GPS features, you can locate a facility in the immediate area right from your mobile device. No more driving around looking for a place to park your car!
mPay2Park is not only for pay by cell parking; we offer an assortment of services and features for various payment transactions.
The features below require an mPay2Park Account. Some features may not be available at your location. Please click the respective tab for easy steps to utilize our features.
The Technology
mPay2Park works via our Website, Mobile Web and Smart Phone Apps. Its both robust and highly secure, as well as convenient and efficient for every consumer.
New technologies have enabled mPay2park to change the way consumers communicate, shop and process transactions. At mPay2Park we have succeeded in capturing a process to implement transactions, validations and coupons with the use of a smart phone and the user's mPay2Park wallet. By engaging consumers and merchants at the point-of-sale and via their smart phones, mPay2Park allows merchants to connect with their consumers with a new and creative way. mPay2Park is much more than pay by cell parking including the following features…
 Parking Validations
Parking validations are an effort to promote local businesses by offering them the ability to waive parking fees for patrons. mPay2Park allows the client or merchant the ability to validate or discount parking transaction as desired. It can be utilized from municipalities to nearby shops, restaurants, and entertainment venues.
The goal of this system is to promote business by offering free to discounted parking. Ideally, the merchant will see increased business for a nominal fee.
Promotional Coupons
mPay2Park Coupons are a QR Code created by the merchant to be given to their customers when running a promotion for their business.  When a coupon is issued to a consumer it allows them to apply a discount on their activity, purchase or parking transaction.
A couple of key benefits to merchant/client coupons:
Coupons can be used for any given time, date or activity.  Coupons can either be used for single use or multi-use. mPay2park is real-time so it prevents the system from abuse of the consumer using it more than once, should it be a one- time coupon.

Coupons can also be used for promotions or advertisement of a new store.  mPay2Park can send coupons out by using the system and locating users by specific demographic. We can text coupon codes accordingly to each mPay2Park user.

Coupons are easy for a consumer to use with a few easy steps.  Please How It Works and the Redeem a Coupon tab for details.  The discounted amount will reduce their transaction amount in real-time and charge would be applied accordingly.
Purchase System
mPay2Park Purchases was created as a utilization feature of our secure and efficient wallet system and as a way for merchants to avoid costly credit/debit card fees. These credit/debit card fees have been minimizing profits for many merchants and have been putting them out of business due to costs. With credit/debit cards becoming the way of the future to provide payments, the only was is to adapt. mPay2Park offers a Purchases System that would relay the transaction fees typically incurred by the merchant to the user. The User benefits from not having to carry cash or cards on them, as well as, avoiding costly fees and interest.

4 Easy Steps to Start a Parking Session
1Open your mPay2Park App and click on Start Parking.
2You will be prompted to enter in: License Plate Number, Parking Zone Number, and your Parking Spot Number. The rate will appear for the zone you are currently parking.
3Click on Start Parking Now button. The screen will show you a current amount you will be charged when you Stop Parking.
4When you are ready to leave your parking location click on Stop Parking Now. It will have a pop up screen verifying you are sure you want to Stop Parking. Click Confirm and you are done!
4 Easy Steps to Start a Parking Session
1 Call the number displayed on signage or the meter.
2 Respond to the prompts accordingly.  Locations and spaces will be  posted on signage or meter.  If you are a new user visit mPay2Park.com to Register.
3 Confirm parking transaction. The transaction will appear on all enforcement devices.
4  Text notification will be sent when time is about to expire.  Where available you may extend time by repeating the steps above.  Your number will be recognized and ask if you want to add time to your existing transaction or start a new one.
4 Easy Steps to Make a Purchase
1 Open you mPay2Park App and click on Redeem/Charge.
2 Click on Start Merchant Transaction.
3 Click on Scan Code and Scan the QR Code provided for the item.
4 Click on Redeem/Charge to complete the transaction.
Transaction will pop up on the screen and give you detail of your purchase and balance in wallet.
5 Easy Steps to Redeem a Coupon
1 Open you mPay2Park App and click on Redeem/Charge
2 Click the Active Session that you want to apply your coupon to
3 Click on Validation Code.
4 Click on Scan Code and Scan the QR Code provided for that coupon.
5 Click on Redeem/Charge to complete the transaction.
Transaction will pop up on the screen and give you detail of your coupon amount  and balance in wallet.