Pay by simply logging into a registered account
created via our website or the app downloaded to a smart phone.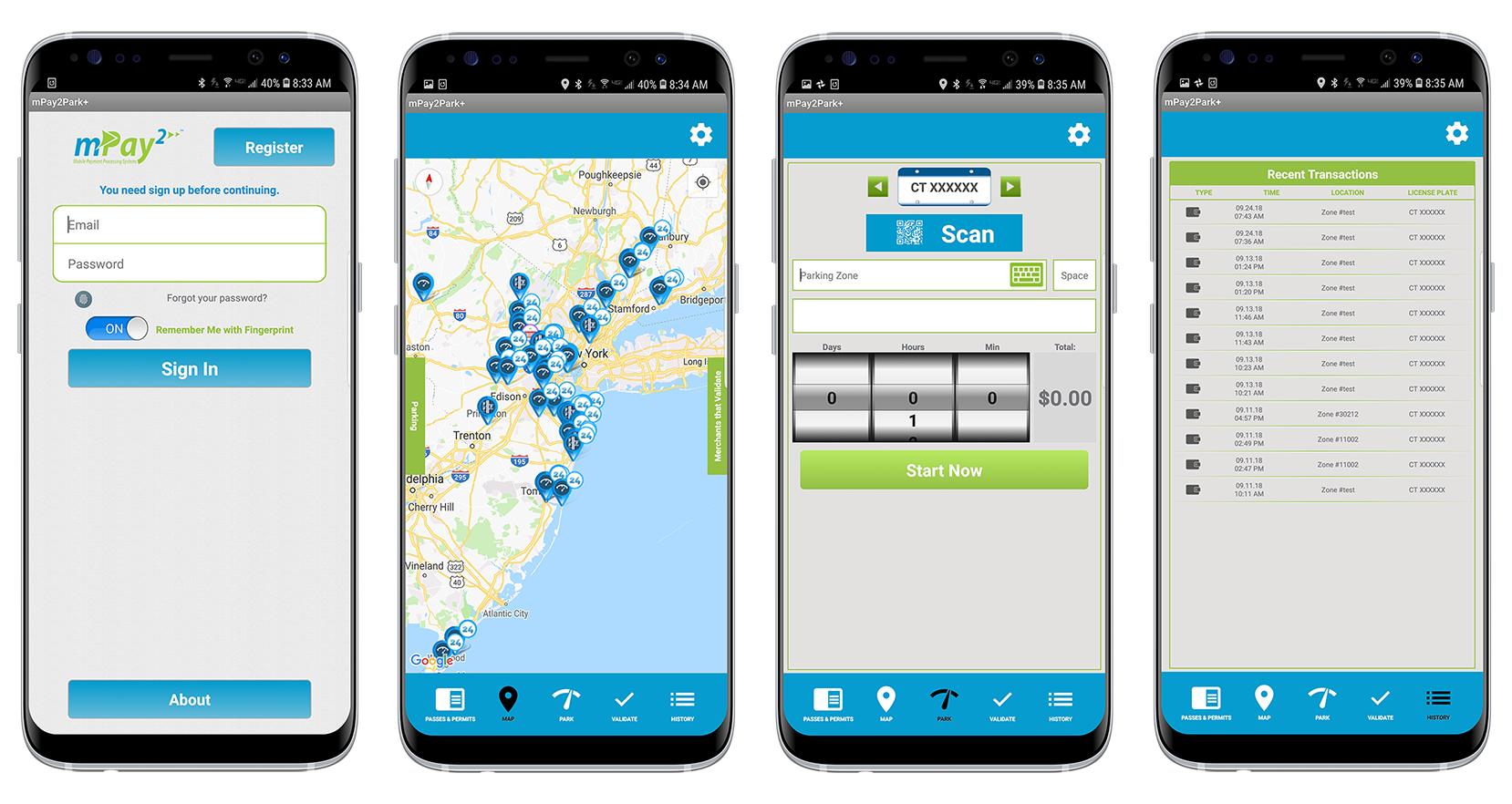 How it Works
In order to establish the account the user must register a credit/debit card to set up their account.
mPay2Park is a fully integrated parking management system that allows both parking users and operators efficient, secure and easy methods of managing parking payment transactions. Using a real-time database, transactions are handled online or through our mobile app.
The initial registration takes only minutes and once established a parking transactions take even less time. You no longer have to leave your car to pay an attendant or worry about change to fill a meter. With a push of the button on your mobile phone, parking time may also be extended from any location.
Using the system's GPS features, you can locate a facility in the immediate area right from your mobile device. No more driving around looking for a place to park your car!
mPay2Park is not only for pay by cell parking; we offer an assortment of services and features for various payment transactions.
The features below require an mPay2Park Account. Some features may not be available at your location. Please click the respective tab for easy steps to utilize our features.
The Technology
mPay2Park works via our Website, Mobile Web and Smart Phone Apps. Its both robust and highly secure, as well as convenient and efficient for every consumer.
New technologies have enabled mPay2park to change the way consumers communicate, shop and process transactions. mPay2Park has succeeded in capturing a process to implement transactions with the use of a smart phone and the user's mPay2Park account. By engaging consumers and merchants at the point-of-sale and via their smart phones, mPay2Park allows consumers to connect with a new and creative way. mPay2Park is much more than pay by cell parking including the following features…
 Parking Validations
Parking validations are an effort to promote local businesses by offering them the ability to waive parking fees for patrons. mPay2Park allows the client or merchant the ability to validate or discount parking transaction as desired. It can be utilized from municipalities to nearby shops, restaurants, and entertainment venues.
The goal of this system is to promote business by offering free to discounted parking. Ideally, the merchant will see increased business for a nominal fee.

4 Easy Steps to Start a Parking Session
1Open your mPay2Park App and click on Start Parking.
2You will be prompted to enter in: License Plate Number, Parking Zone Number, and your Parking Spot Number. The rate will appear for the zone you are currently parking.
3Click on Start Parking Now button. The screen will show you a current amount you will be charged when you Stop Parking.
4When you are ready to leave your parking location click on Stop Parking Now. It will have a pop up screen verifying you are sure you want to Stop Parking. Click Confirm and you are done!